Hollywood Thriller "The Possession Of Hannah Grace" Uses Sony a7S II and Vantage Anamorphic Lenses To Capture All Primary Footage
Thanks to the compact, affordable power of the a7S II and anamorphic Hawk 65 lenses from Vantage, studio brings in feature film on time, and on budget, using only the a7S II for a-roll footage.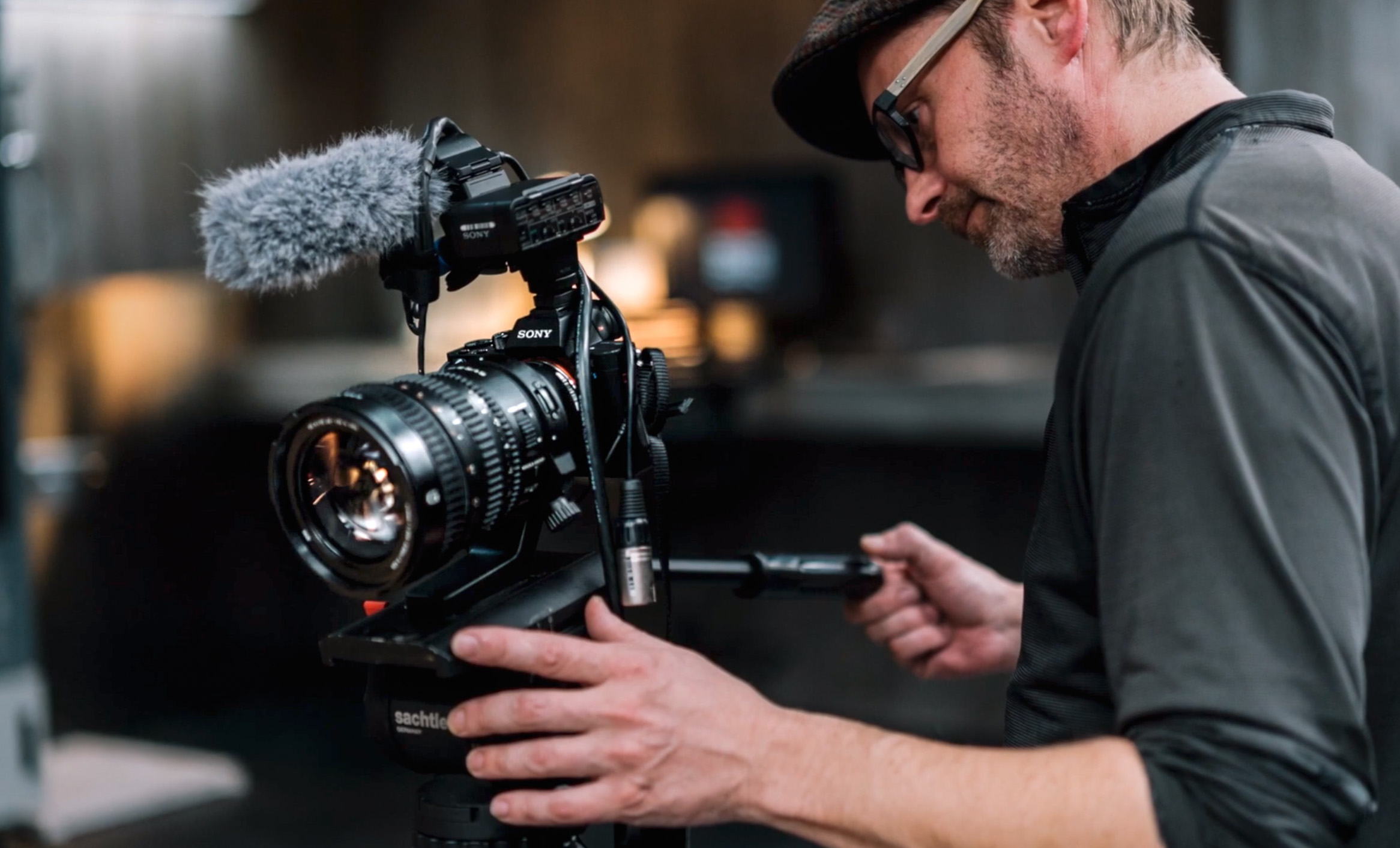 Sony a7S II low-light performance and image quality of the a7s II, combined with Vantage Hawk 65 anamorphic lenses allow the team behind full-length film "The Posession of Hannah Grace" to capture all a-roll footage with more flexibility than ever before.
Links to download images and the originl release are at the end of this document.
EMBARGOED UNTIL 12/3/18 AT 11 AM ET / 8 AM PT
Sony Contacts:
Cheryl Goodman, Corporate Communications
858.942.4079
Matt Parnell, Digital Imaging
858.942.7975
Sony's A7S II and Vantage'sHawk 65 Deliver Stunning Anamorphic Images for New Hollywood Thriller "The Possession of Hannah Grace"
SAN DIEGO — December 3, 2018 ​ —  It is common knowledge in today's filmmaking world that far-reaching advancements in camera, lighting, workflows and lens technology are challenging longstanding assumptions. One outstanding example is the Screen Gems feature film titled, "The Possession of Hannah Grace." The project was shot in Boston using Sony A7S II mirrorless digital cameras combined with large format Hawk 65 Anamorphic lenses from Vantage – a high-quality, cost-effective production workflow. It is an unlikely combination featuring lenses designed for large digital sensors combined with a full-frame camera with a DSLR form factor and a price tag under $3,000[1].
With rigorous testing, the A7S II's dynamic range, color science, skin tone rendition, detailed blacks, natural highlight roll off and the ability to shoot and output Sony LOG were critical aspects that were considered. Still, the biggest news is that the camera-lens duo, which breaks new ground for Anamorphic production, allowed production to access the beauty and unique aesthetics of Anamorphic imagery on a tight budget. This combination just happened to be perfect for the script and the budget, according to director of photography Lennert Hillege, opening up new ways of thinking, seeing and shooting.
Executive producer Glenn S. Gainor initiated the A7S II/Hawk 65 pairing after searching for ways to lend power and scale to images shot on a tight production schedule. He had worked on a previous film shot on Hawk 65 lenses, and was familiar with their potential. Gainor, president of physical production at Screen Gems, is known for implementing new technologies and for promoting environmentally friendly production practices.
 "I knew that Sony's A7S II had a full-frame sensor and could capture in 4K," says Gainor. "And I knew that we had to make the film in a manner that would fit our schedule and budget. I had a relationship with Vantage, so we put it together and made a motion picture in a way that has never been done before."
The Hawk 65 lenses apply a 1.3x squeeze to the image, which means that a 16:9 sensor can result a widescreen 2.40:1 image. At the time of the shoot, there were two sets available – a total of six lenses.
 "Vantage is a wonderfully forward-thinking company that looks at every lens as a personal work of art," says Gainor. "They don't mass-produce their lenses. They specialize in the art of glass, which complements the art of cinematography. The glass is the first thing that the image sees before it goes to the sensor, so you tell your story very much with the glass. Vantage is also aware that there's a story in what is not in focus. Typically, 70 percent of your frame is out of focus. You might be looking at the 30 percent that is in focus, but there's magnificence in what is in the background, and the Hawk lenses are designed with this in mind."
With exceptional 65 mm lenses and DSLR-sized cameras, the normal procedures did not always make sense. Hillege's crew instead kept a camera body on each lens throughout the shoot, making lens changes quicker in some cases.
 "We had four or five cameras at the ready at any time, so we were able to pick up and go," says Gainor. "We never had to wait for lens changes. I think the full-frame sensor is where the industry is going. Given the trends in digital cameras and the importance of lenses, you could argue that this is the future of cinema."
 Gainor points out that the new technologies are helpful in terms of ecological responsibility – something he takes very seriously.
 "You have to look at the footprint of the entire movie," he says. "The smaller camera's ability to see beautiful under low light conditions, the LED lighting technology, and the green methods we used in set construction made this whole production a case study in how to be efficient and still tell a great story with a fantastic look."
The Hawk 65 glass was a key aspect of the visual strategy developed with director Diederik van Rooijen. The story follows a cop who comes out of rehab and takes a job at the city morgue. Bizarre and violent events ensue.
"The director and I really wanted to create an eerie and imposing morgue," says Hillege. "We immediately liked the Brutalist architecture we found in Boston, and the morgue set was built to match that. Glenn was very interested in shooting with very lightweight and light sensitive camera, and bringing a different perspective on how to make the movie. These two things led us to conclude that the only way to shoot was with a full frame, with a hint of anamorphic, and a sort of vintage style. Sony's A7S II with the Hawk 65 lenses were the perfect tools for the job."
 At that time, shortly after the introduction of the lenses, only three focal lengths were available – 40 mm, 60 mm and 95 mm. They had been used on a recent Star Wars project. Vantage helped with the adaptors required for the PL mount cine lenses to work with the Sony's E-type mount. The lenses went on the cameras – or was it vice-versa? – and stayed there for the entire shoot.
 Red Rock Micro was invaluable and inventive with building the cage and focus systems and making everything connect. Tiffen helped with the Steadicam rig and filtration, and Sony's development team was on hand throughout. Sony's A7S II rolling shutter was a concern, but testing revealed how to avoid problems.
"The biggest challenge was the camera's 8-bit compression," says Hillege. "It's not like the conventional shooting we are used to with ALEXA. There are definitely limitations to be aware of, but the image is spectacular. It's not what you would expect with 8-bit. If you're not too dirty, and you keep to certain rules about exposure and color, you can shoot really beautiful, monumental images with it."
 Looking back on the experience, Hillege marvels. "It all came together very quickly," he says. "It was really a team effort toward making the camera ready for the demands of a fast-paced set. It was quite an experience to be in the middle, with all these new innovations, and all these people making ​ this work in such a short time. 
"Glenn is a very interesting producer because he really is trying to see what else is possible beyond traditional studio thinking," Hillage says. "He's looking to make filmmaking more green, which is important. I really like where he's coming from."
 Hillege says that the imagery is not technically perfect, but that's not the point.
 ​ "If you work with a director who wants to shoot anamorphic, and we work with a producer who really wants to change the whole vision of how to shoot a cine movie, perfection is not the most interesting goal," he says. "It's how you are telling the story and whether that works. It's the culmination of many things that gives a certain look. All these new ideas and ways of working are interesting to think about, investigate and put into action on a script."
"The Possession of Hannah Grace" ​ was released on November 30th. ​ Hillege is currently shooting the feature "Bloody Marie" in Amsterdam's red light district, and also among Gainor's current projects is "Thunderman," which is slated to be shot with Sony's A7S II and Hawk 65 lenses. 
About Sony Electronics Inc.
Sony Electronics is a subsidiary of Sony Corporation of America and an affiliate of Sony Corporation (Japan), one of the most comprehensive entertainment companies in the world, with a portfolio that encompasses electronics, music, motion pictures, mobile, gaming and financial services. Headquartered in San Diego, California, Sony Electronics is a leader in electronics for the consumer and professional markets. Operations include research and development, engineering, sales, marketing, distribution and customer service. Sony Electronics creates products that innovate and inspire generations, such as the award-winning Alpha Interchangeable Lens Cameras and revolutionary high-resolution audio products. Sony is also a leading manufacturer of end-to-end solutions from 4K professional broadcast and A/V equipment to industry leading 4K Ultra HD TVs. Visit http://www.sony.com/news for more information.
 # # #