Sony Electronics Announces Mobile Motion Capture System "mocopi™" in the U.S. Market
Small, lightweight sensors provide studio-free, full-body motion capture experience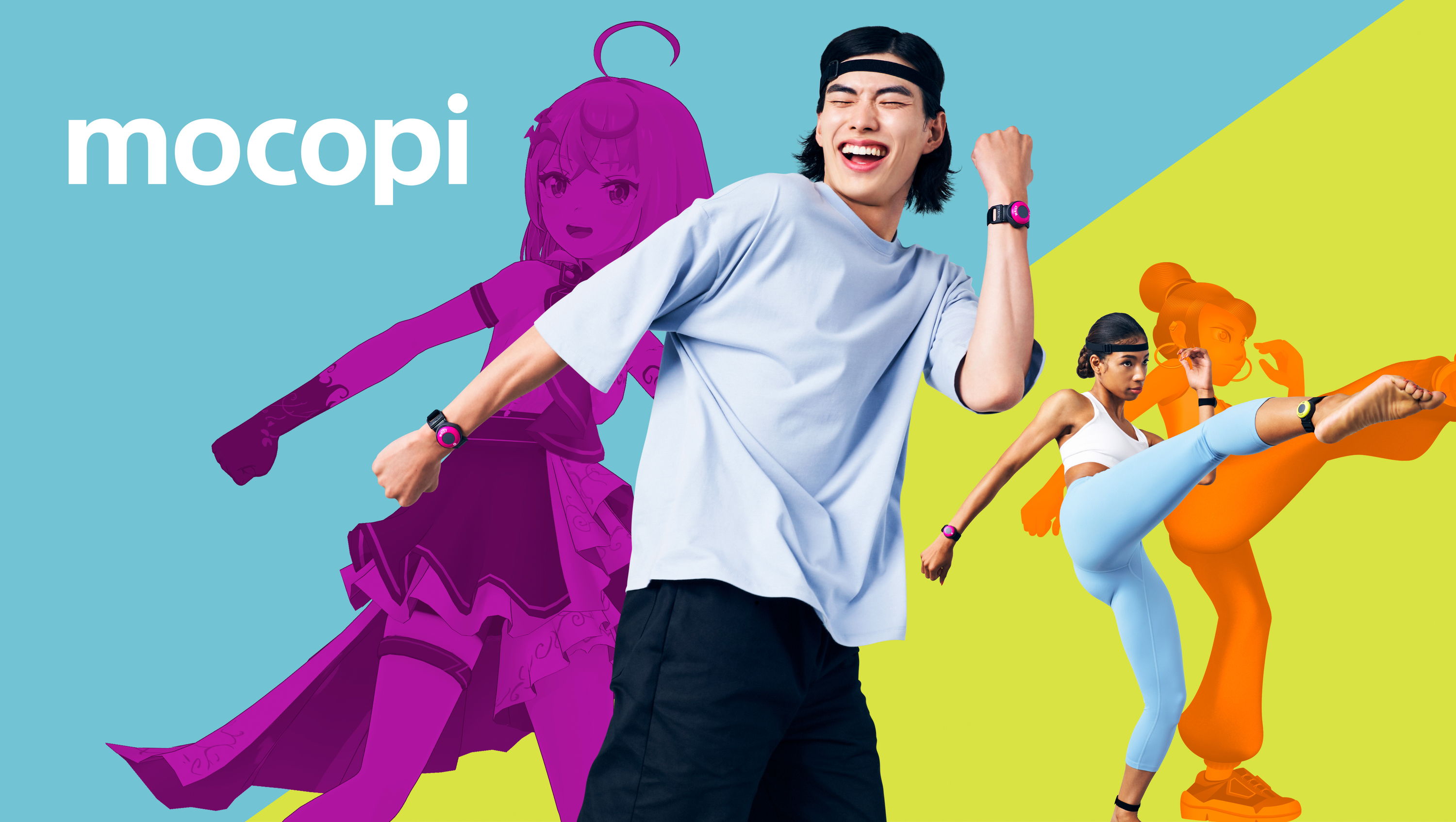 Sony Contact: Jennifer Sugarman, Mobile Communications and Solutions [email protected]
SAN DIEGO, CA June 29, 2023 -- Sony Electronics Inc. ("Sony") announced the launch of mobile motion capture system "mocopi" (QM-SS1) in the U.S. market. "mocopi," with its six small and lightweight sensors and a dedicated smartphone app available for iOS and Android,1 enables full-body motion tracking using Sony's proprietary technologies. Creators can capture their motion data or video of their avatars in motion with the mobile app or send motion data to compatible third-party software in real time, providing users with a new way to interact within virtual reality (VR).2
Traditional full-body motion capture systems often require dedicated studios and trained operators. "mocopi", utilizing Sony's unique algorithm, provides accurate motion measurement with only a small number of sensors and a compatible smartphone,3 which enables users to create content or dive into VR from locations previously deemed impossible, freeing VTubers, creators in film or animation production from time and location constraints.
In addition, "mocopi" Software Development Kit (SDK) is available for major 3D development software such as Unity, MotionBuilder® and Unreal Engine, which lets creators use "mocopi" in their workflows to pursue their creative visions.2 It allows developers to explore the use of full-body motion data obtained with "mocopi" for various use cases including Metaverse and fitness applications. Sony plans to expand the number of partners that develop services linked to "mocopi".
Main Features
1. Compact and lightweight sensors that are easy to wear
Each sensor measures at 1.26 inches in diameter and 0.46 inches in thickness and weighs only 8 grams. Users pair the six sensors to a compatible smartphone with "mocopi" smartphone app via Bluetooth®,4then simply attach the sensors to their head, hip, ankles and wrists to create movies with their avatars in motion or record-motion data.5
Sony's proprietary algorithm enables accurate motion capture with only six sensors. The sensors can be easily worn with Velcro® bands and a clip included in the package. They also work completely wirelessly with built-in rechargeable batteries, meaning there is no need to find power source or fight with cables hanging around.
With "mocopi" and a compatible smartphone, users can easily create motion data even from outdoor locations or send motion data to compatible services such as VRChat.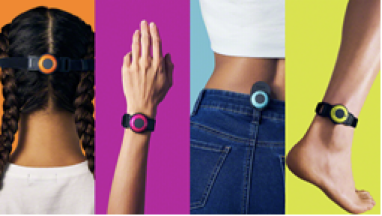 2. Create avatar videos and export motion data using just a smartphone (iOS and Android)
With the dedicated "mocopi" app, users can create movies with their avatar in motion with their compatible smartphone, using the data obtained from the sensors attached to their body. In addition to pre-installed avatars, users can import custom avatars. Recorded avatar movies can be exported as mp4 files or motion data from the mobile app.1 A detailed instruction video is available at https://electronics.sony.com/more/mocopi/all-mocopi/p/qmss1-uscx .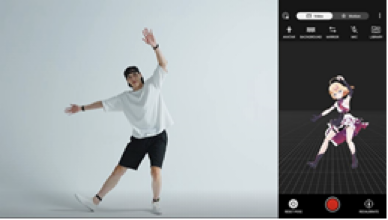 3. "mocopi" SDK available for applications in creative workflows and app development
"mocopi" SDK is available for major 3D development software such as Unity, MotionBuilder® and Unreal Engine.2 With the SDK, creators will be able to receive motion data captured with "mocopi" directly to the compatible software on computers6 and instantly review the motion data on the software or stream the live video to social platforms. This opens up diverse potential use cases in professional film, animation and game production, to improve the quality and efficiency of creators' works.
"mocopi" SDK also allows third-party corporate developers to use motion data obtained with "mocopi" in various fields such as Metaverse or fitness.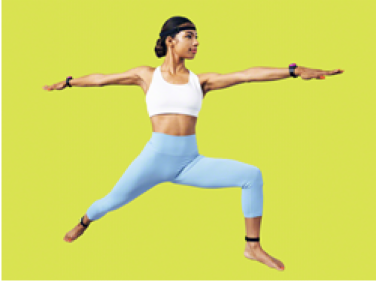 4. Efforts to reduce environmental footprint
Sony's Road to Zero global environmental plan strives to achieve a zero environmental footprint throughout the life cycle of its products and business activities by 2050. In its medium-term environmental targets from fiscal year 2021 through fiscal year 2025 under the initiative, Sony aims to eliminate plastic packaging of newly-designed small products. In accordance with the target, "mocopi" has plastic-free packaging (excluding labels, tags and adhesives)*. Sony will continue to accelerate its environmental and social initiatives to realize a sustainable society.
*Packaging refers to the individual product box, as well as components such as in-box trays and spacers.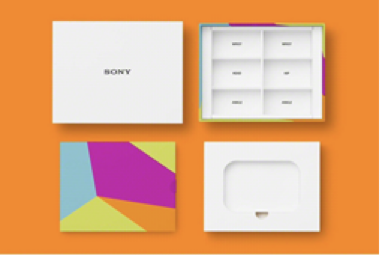 Pricing and Availability
"mocopi" will be available for pre-order for approximately $449.00 starting June 29, 2023. The product will ship to customers starting July 14, 2023. "mocopi" will be available exclusively at https://electronics.sony.com/more/mocopi/all-mocopi/p/qmss1-uscx .
Specifications/Resources
Full specifications and "mocopi" SDK information can be found at https://electronics.sony.com/more/mocopi/all-mocopi/p/qmss1-uscx.
Upcoming Events
Anime Expo with VShojo
"mocopi" will be shown during select hours at the Anime Expo in Los Angeles in the VShojo booth. Additionally, key VShojo talent will be using mocopi to provide full body movement to their avatars during the show. VShojo is a talent management agency specializing in virtual entertainers, primarily focused on nurturing and promoting talented live-streamers, content creators, and performers utilizing virtual avatars. VShojo aims to revolutionize the digital entertainment space through innovative use of virtual reality and cutting-edge technology like mobile motion capture system "mocopi™" by Sony.
"mocopi" world in VRChat
As a part of partnership with VRChat, "mocopi" world is open now and provides users with tutorials as well as fun content to engage with. Look for the "mocopi" world in VRChat.
"SONY" "Sony" and "mocopi" are trademarks or registered trademarks of Sony Group Corporation or its affiliates. Other product names, service names, logos and/or company names used in this Press Release are trademarks, registered trademarks or copyrighted properties of their respective owners.
About Sony Electronics Inc.
Sony Electronics is a subsidiary of Sony Corporation of America and an affiliate of Sony Group Corporation, one of the most comprehensive entertainment companies in the world, with a portfolio that encompasses electronics, music, motion pictures, mobile, gaming, robotics and financial services. Headquartered in San Diego, California, Sony Electronics is a leader in electronics for the consumer and professional markets. Operations include research and development, engineering, sales, marketing, distribution and customer service. Sony Electronics creates products that innovate and inspire generations, such as the award-winning Alpha Interchangeable Lens Cameras and revolutionary high-resolution audio products. Sony is also a leading manufacturer of end-to-end solutions from 4K professional broadcast and A/V equipment to industry leading 4K and 8K Ultra HD TVs. Visit http://www.sony.com/news. for more information. 
Contacts for inquiries or additional information ​
​Sony Contact: ​ ​ Jennifer Sugarman, Sony Marketing and Partnerships ​
​[email protected]
Notes:
1. Download app at Google Play and the App Store. Network services, content, and operating system and software subject to terms and conditions and may be changed, interrupted or discontinued at any time and may require fees, registration and credit card information. Use of third party services or apps may require registration and/or acceptance of a license agreement, privacy policy and other terms and conditions. Sony bears no responsibility for third party websites, services and apps. Features and specifications are subject to change without prior notice.
2. Motion data captured through the mocopi app can be sent to a PC or similar external device and can be used for virtual content creation.
3. Guaranteed compatible phones include: (Android) Xperia 5 IV, Xperia 1 IV, Xperia 5 III, Xperia 1 III, Xperia 5 II, Xperia 1 II, Xperia 5, Xperia 1, other Android phones not listed here could be compatible
(iOS) iPhone 14 Pro Max, iPhone 14 Pro, iPhone 14 Plus, iPhone14, iPhone 13 Pro Max, iPhone 13 Pro, iPhone 13, iPhone 13 mini, iPhone 12 Pro Max, iPhone 12 Pro, iPhone 12, iPhone 12 mini, iPhone SE (3)
4. Interoperability and compatibility among Bluetooth® devices vary.
5. 6 sensors should be correctly attached on HEAD, WRIST-L/R, HIP and ANKELS-L/R. How to correctly attach them is described in the application setup flow as well as "how to" video https://youtu.be/yg0GEIc8DfA
6. mocopi SDK consists of receiver plugin for Unity, receiver plugin for MotionBuilder and receiver plugin for Unreal Engine, the required PC specs will be determined by the specific software (Unity, MotionBuilder and Unreal Engine).
Press Release in MS Word Format:
Mocopi-US-Press-Release 2.docx
DOCX - 260 Kb
Download
Mocopi Videos
ZIP - 181 Mb
Download