Sony's Creators' Cloud Opens Up to Individuals; Bringing Together the Power of Camera and Cloud to Creators Worldwide Through a Single Platform
Sony Electronics introduces an application ecosystem bringing together camera and cloud, designed to meet creators' needs from cloud storage to networking.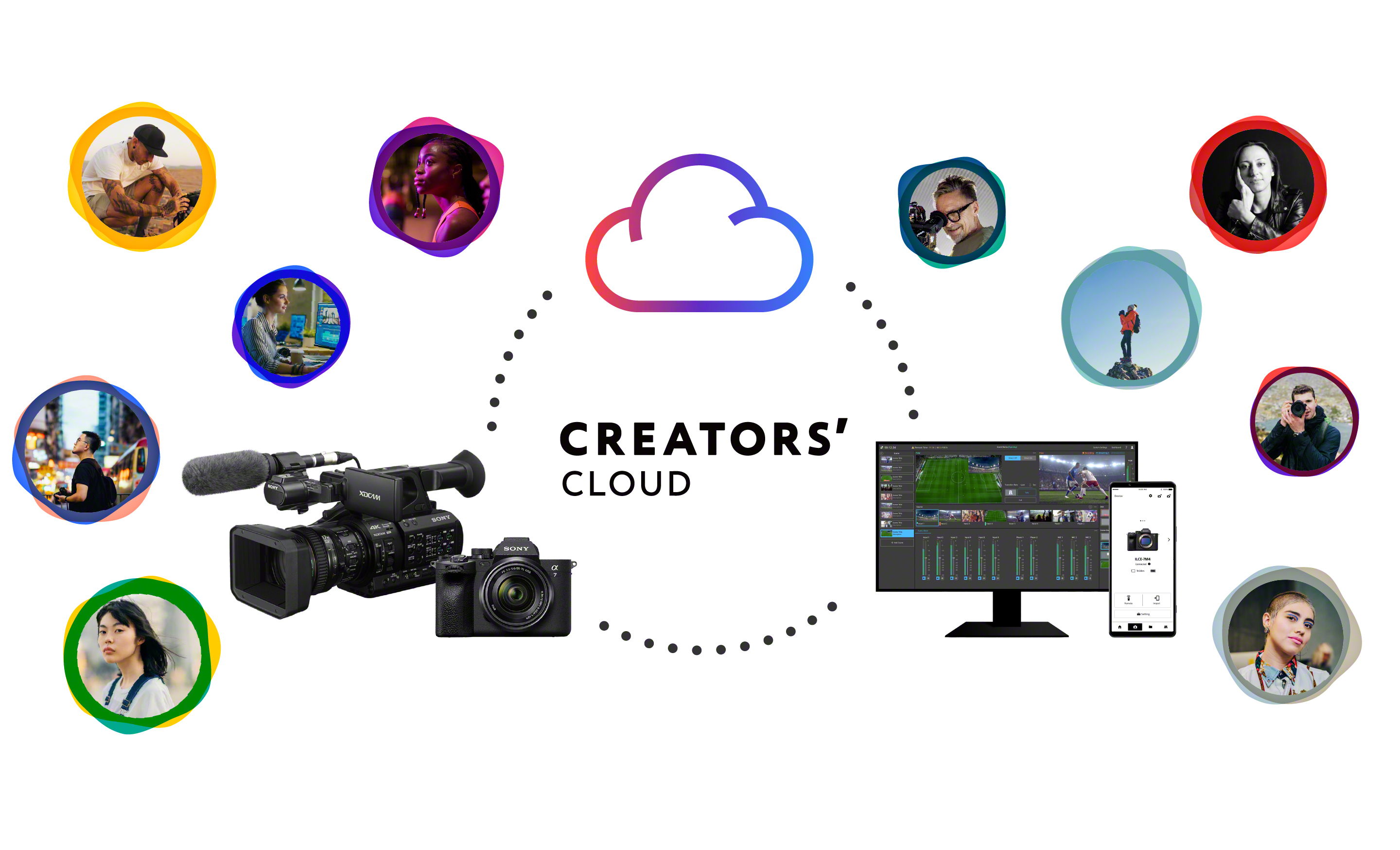 Sony Contact: ​ Morgan Crumpley, Imaging Products & Solutions Americas [email protected]
SAN DIEGO, CA -- Feb. 21, 2023 — Today, Sony Electronics announced the next generation of its Creators' Cloud platform, opening a host of new cloud-based applications and features designed for individual content creators and small content teams. This expansion comes after the initial introduction of Creators' Cloud in September 2022, intended for professional and enterprise users.
The Creators' Cloud platform includes cloud storage, Ci Media Cloud for collaborative media workflows, and Discover, a platform to discover and connect with peers. The Creators' Cloud platform, aimed at independent professionals, will soon include Creators' App, a content transfer application from camera to cloud.
"With Creators' Cloud, we are building a unique space where content creators can blur the lines between hardware and software, online and offline," says Yang Cheng, Vice President, Imaging Solutions, Sony Electronics Inc. "We know that content creators are looking for a one-stop shop, a place that integrates their content and creative tools, allows them to share and learn from other professionals and offers business opportunities and the expansion of Creators' Cloud is the first step in Sony's answer to this."
Content Immediately Available on Multiple Devices 
As creators seek to view and share their content efficiently, Creators' Cloud will enable the transfer of images and videos to the cloud for immediate viewing and sharing. Sony offers 5GB free for any Creators' Cloud account user and 25GB for owners of select Sony camerasiv. 
Creators' App will be the successor of Imaging Edge Mobile Plus​ and will act as an extension of a camera to upload, view, and manage photo and video content shot on select Sony cameras and stored in the cloud. With the upcoming launch of Creators' App, key features will include: ​
Transfer content from select Sony camera to a smartphone ​ 
Upload content from the smartphone to Creators' Cloud
View content on the smartphone and in the cloud using the Creators' App vieweriv
Connect to and control select Sony cameras remotely using the Creators' Appiv
Update camera and settings using the Creators' Appiv
The cloud storage feature can be used with or without the upcoming Creators' App. All users can upload photo and video to Creators' Cloud via Creators' Cloud website. While camera control and file transfer to Creators' App will be available to limited compatible models at time of release, Alpha 7 IV and ZV-1F, all users will also be able to upload via Creators' App upon application. Other compatibility options will be available in Spring 2023. Direct upload from select cameras to cloud will be available at a future date. With the launch of Creators' App for individuals, "C3Portal App," a cloud gateway application currently being provided for enterprises, will be renamed as "Creators' App for enterprise." 
Facilitating Collaboration 
Ci Media Cloud, Sony's well-established online creative collaboration and media management service, supports over 150,000 professionals worldwide. Ci has opened its tools with new pricing and subscription plans built for how individual creators work and create. With Ci Media Cloud, creators and creative teams can simplify collaboration on media files from anywhere on any device, with a simple, intuitive user interface. From an Adobe Premiere Pro panel integration to mobile applications and an Apple TV app now available, Ci continues to develop features and integrations to empower creative professionals to work simpler and smarter. 
Creating A Global Community of Creators 
Discover is a portfolio for global networking and collaboration opportunities and it is another stand-out feature of Creators' Cloud launching today. In Discover, images and videos will include detailed information including the camera operator's location, camera and lens models, settings, and genre. 
Creators' Cloud will continue to expand in the future with new services and features added regularly based on user feedback.
For more information about Creators' Cloud, please visit https://www.sony.net/cc/.
---
About Sony Electronics Inc. ​ 
Sony Electronics is a subsidiary of Sony Corporation of America and an affiliate of Sony Group Corporation, one of the most comprehensive entertainment companies in the world, with a portfolio that encompasses electronics, music, motion pictures, mobile, gaming, robotics and financial services. Headquartered in San Diego, California, Sony Electronics is a leader in electronics for the consumer and professional markets. Operations include research and development, engineering, sales, marketing, distribution and customer service. Sony Electronics creates products that innovate and inspire generations, such as the award-winning Alpha Interchangeable Lens Cameras and revolutionary high-resolution audio products. Sony is also a leading manufacturer of end-to-end solutions from 4K professional broadcast and A/V equipment to industry leading 4K and 8K Ultra HD TVs. Visit http://www.sony.com/news. for more information. 
Notes: 
1 Sony will roll out availability of Creators' App, Cloud Storage, Master Cut (Beta), Ci Media Cloud and Discover progressively in the U.S. and the rest of the world, thus availability timing of services will vary by region and country. 
2 Targeted for Spring 2023.
3 Download app at Google Play and the App Store. Network services, content, and operating system and software subject to terms and conditions and may be changed, interrupted, or discontinued at any time and may require fees, registration, and credit card information.
4 Coming soon, Creators' App will be compatible with Alpha 7 IV, ZV-1F. Spring 2023: FX3, FX30. Alpha7 IV, Alpha 7R V, FX3, FX30 will need software update. More information at https://www.sony.net/cca/
5 1 GB = one billion bytes. A portion of which is used for data management functions.
6 Targeted for Spring 2023.
7 Transfer using the new app require compatible camera with latest firmware.
8 Upon launch, supported formats are JPG, MP4, ARW, AQW.
9 Ci's MediaBox Screener app is available on Apple TV and at the date of writing, the Ci Media Cloud web app is available in Japanese and English, with further languages to be added in summer 2023.
Press Release - Microsoft Word Format
CreatorsCloud.docx
DOCX - 41 Kb
Download
Media Assets Download:
Creators' Cloud Media Assets.zip
ZIP - 350 Mb
Download